Manchester Links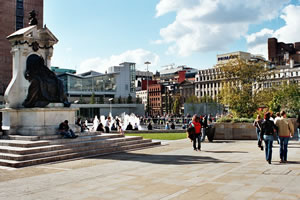 Manchester's a great place to be: it's small enough to travel around easily and yet it's still packed with all the shops, restaurants, theatres, galleries and museums that you'd expect to find in any major metropolitan city. It's also a bloody friendly place to be, try chatting to a stranger if you don't believe me.
If you've not from around these parts, you may find these links useful for finding getting around and finding things to do. I hope you enjoy your stay.
City Guides and Gay Scene
Hotels and Accommodation
Malmaison - Comfortable hotel next to Piccadilly Train Station.
Victoria & Albert - Recommended, on the edge of the City Centre - 0161 832 1188.
Transport
National Rail - Train timetables and ticket prices.
National Express - Intercity coach timetables and ticket prices.
TFGM - Manchester bus and tram journey planner.
Radio Cars - City Centre private hire/taxis - 0161 236 8033
Street Cars - City City Centre private hire/taxis - 0161 228 7878
Village Cars - Gay City Centre private hire/taxis - 0161 237 3383
Shop
Entertainment